Three TCU graduates receive Harvard degrees
SIPI alumnus, Lorrisa Garcia (center), receives Masters in Education
Published June 07, 2021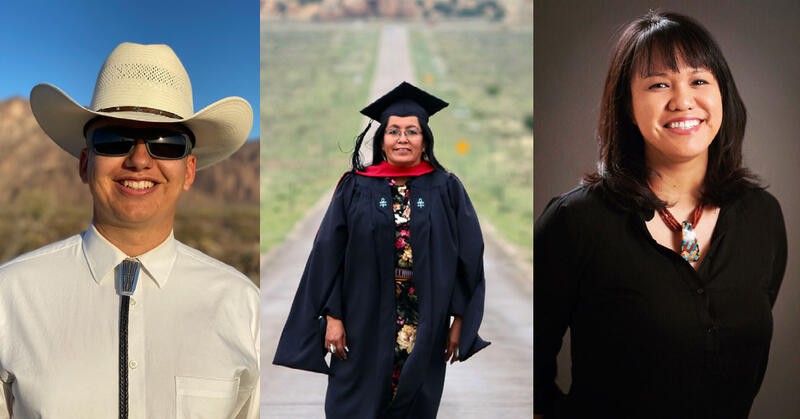 Originally posted on Harvard University, Native American Program
Three of Harvard's 2021 graduating students hail from Tribal Colleges and Universities (TCUs).
Harvard University's May 27th commencement activities celebrated the 7,640 degrees awarded to their 2021 graduates, of which 6,161 were advanced degrees given to candidates completing masters, doctoral, and professional programs. Among those are three TCU graduates who now have Harvard degrees.
Connor Veneski (BA, Haskell Indian Nations University) received a Juris Doctorate (JD) from Harvard Law School. Connor Veneski (Cayuga Nation of New York – Bear Clan), the first TCU graduate to be accepted into Harvard Law School, served as the co-president of the Harvard Native American Law Students Association during his second year.
Heidi Brandow (BFA, Institute of American Indian Arts) received a Masters in Design Studies (MDes) degree from the Harvard Graduate School of Design. While at Harvard, Heidi Brandow (Diné/Kānaka Maoli), co-founded the Harvard Indigenous Design Collective which hosted a number of virtual events focused on housing, Indigenous design, and the role of museums in presenting Indigenous histories.
Lorissa Garcia (AA, Southwestern Indian Polytechnic Institute) received a Masters in Education (EdM) degree from the Harvard Graduate School of Education. Lorissa Garcia (Acoma Pueblo), began her educational career with an Associate of Arts degree from the Southwestern Indian Polytechnic Institute in Albuquerque, NM. She would later receive her bachelor's degree from Northern Arizona University. Upon earning her Harvard degree, Lorissa reflected on her TCU pathway,
"I got my start at (SIPI), and it was one of the best decisions of my educational journey thus far. Being at a TCU gave me a sense of comfort because the campus was smaller, but more importantly it helped give me a better sense of self because I was encouraged to embrace my Indigenous heritage and its importance of who I am and where I come from and why my degree was important to my home community and Indigenous Country."
There are currently 32 TCUs in the United States. In or around tribal communities. TCUs are tribally controlled institutions of higher education offering a variety of apprenticeships, certificates, and degrees programs. They also provide a unique opportunity to pair cultural and Indigenous values into their studies. For many tribal students, TCUs serve as the closest institution for higher education.