Of Community and Culture: A Snapshot of Tribal College Alumni
Jovanna Archuleta, Southwestern Indian Polytechnic Institute, Class of 2008
Published August 24, 2021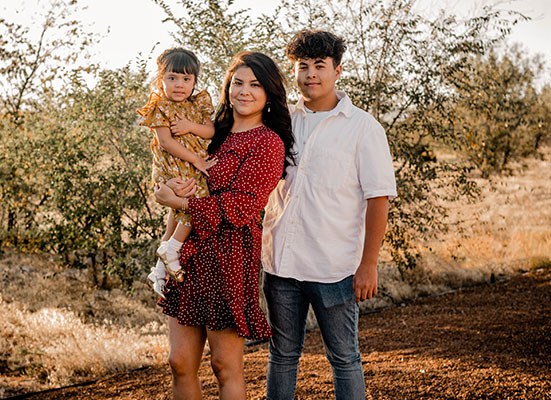 Originally posted on Tribal College Journal (Dina Horwedel)
Jovanna Archuleta (Nambé Pueblo) is her state's first assistant secretary for Native American Early Childhood Education and Care, serving in the newly created New Mexico Early Childhood Education and Care Department. Archuleta ensures the state's strong partnerships with tribal communities and works to strengthen government-to-government relationships on early childhood issues.
No stranger to issues impacting Native early childhood education, Archuleta was born, raised, and grew up grounded in her Native community, culture, and traditions in the northern New Mexico foothills of the Sangre de Cristo Mountains. Surrounded by her family and many cousins, who were like the brothers and sisters she never had, Archuleta's early life was centered on community—right down to her education at Pojoaque Valley High School.
After finishing her sophomore year, Archuleta wanted to experience life outside of New Mexico. She applied to the Cushing Academy, an international college preparatory boarding school in the rolling hills of Ashburnham, Massachusetts, near the New Hampshire border. There she made lifelong friends from around the world.
After graduation, Archuleta was accepted to a college in Massachusetts when she learned she was pregnant. She chose to attend Southwestern Indian Polytechnic Institute (SIPI) after consulting with an upward Bound coach. Armed with a Pell grant, a college workstudy position, food assistance, and an American Indian College fund scholarship, Archuleta moved to Albuquerque with her infant son, rented an apartment, and enrolled in SIPI's business program.
It wasn't easy uprooting her small family from her community where there were support systems in place to move a few hours south as a single mother and college student. But the SIPI experience, even with a young child, was "almost like going back to the community I was familiar with. It was affordable and small. The administration was full of welcoming faces. often, when I'd go to the offices there was a woman there. I still remember her, with a big smile on her face every time—even when I had a one-year-old child on my hip."
Archuleta says the faculty and staff at SIPI understand Native students' special challenges and needs. "for example, when I needed to leave to attend our community feast day or other events, that was not a problem, as long as I communicated with my instructors and had a plan to complete the work."
After graduating from SIPI with an associate's degree, Archuleta transferred to New Mexico Highlands university and earned a bachelor's degree and then an MBA. She launched her career in her community as a receptionist for the Eight Northern Indian Pueblos Council, which offers education, training, prevention, and health programs to northern New Mexico pueblos. She was promoted over the years to various positions and eventually served as the deputy director of the organization. That position gave her experience with government programs like Women-Infants-Children assistance, Head Start, behavioral health, and childcare.
Her philosophy on education is deeply rooted in her understanding of community. "We know everything starts at birth. Babies are born ready to learn in the environment they are born into, [which includes] family, leadership, cultural traditions, and language. Babies pay attention to everything we do. Early childhood impacts lifelong learning, how children view relationships as they grow older, and what they are accountable for," she says.
Archuleta's career, relationships, mentorships with tribal leaders, and experience as a mother positioned her for her current appointment by New Mexico governor Michelle Lujan Grisham to the assistant secretary position upon the recommendation of tribal leaders.
When advising Native students about college and careers, Archuleta says, "The biggest thing students need is to have confidence to explore college opportunities. It's hard to leave, even when it's one hour away." She notes that her own education opened doors to opportunities that paved the route to her position today.
"We can do it," Archuleta says. "It's a matter of understanding what we want, what our community wants, and what our children need. I think students need to understand that to succeed, they can go at a pace that works for them. Scholarships, including American Indian College fund scholarships, kept me afloat as a full-time student. Although not everyone can attend college full time, they can set up small incremental goals."
Today, Archuleta envisions New Mexico's Native communities' needs in early education and oversees a program that works with a cohort of students studying early childhood education at SIPI. "I have come full circle," she says.